There is an excellent number of best Vancouver flooring options currently available in the market. After reading this article, you can choose the best flooring options matching the individual requirements of your home ambience. In this review, we will consider seven flooring options to provide you with the most extensive information related to flooring.
Hardwood Flooring
Hardwood flooring is a favourite option for homeowners if they can afford it.
It's very durable, has a natural appearance and brilliant shine. Hardwood flooring is used in luxurious homes and business venues.
Advantages:
Disadvantages:
Expensive;

High installation cost;

Needs regular refreshment;

Susceptible to moisture, scratches, and sunlight;

Easy to scratch;

Makes a lot of noise when someone is walking.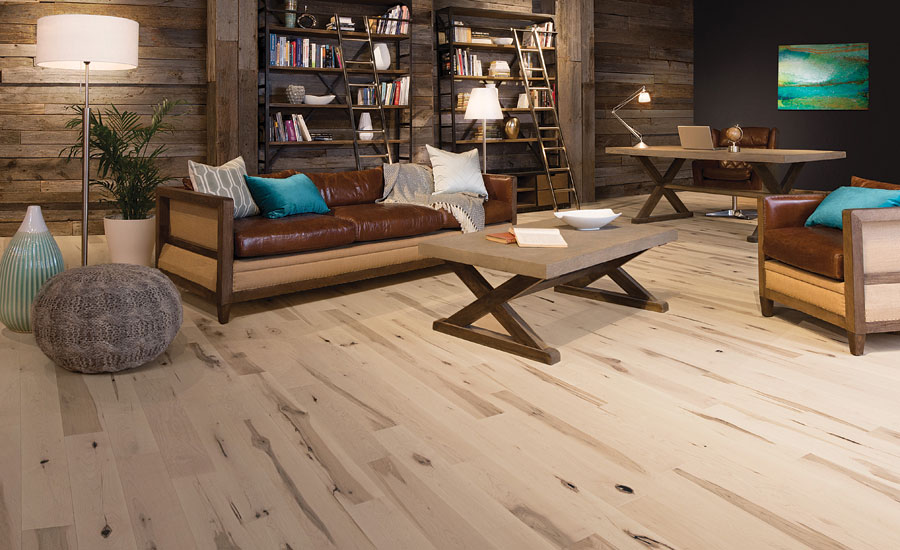 Image: Hardwood Flooring 
Laminat
e
Flooring as well 
one of the Best Vancouver Flooring Solutions
Laminate flooring is a cheaper alternative to hardwood flooring. It's more affordable than hardwood, but also has its advantages and disadvantages.
Advantages:
Affordable;

Fast, easy and inexpensive installation if compared to other types of flooring;

Durable top surface resistant to scratches and pets' claws;

The perfect solution for upper floors of homes or homes where tile cannot be installed because of specific design;

Susceptible to sunlight because of built-in UV protection.
Disadvantages:
Low durability;

Difficult to repair, sand down or refinish;

Average appearance if compared to hardwoods.
Image: Laminate Flooring
Tile Flooring
i
s
one of the Best Vancouver Flooring Solutions
Tile flooring is natural flooring made of clay which was hardened in a kiln. Tile flooring which is commonly used in homes can be ceramic or porcelain. Both types of tile flooring have the same advantages and disadvantages.
Advantages:
Cost effective;

Acutely water resistant presents a perfect solution for bathrooms and kitchens;

Resistant to pets' claws, scratches and other damages;

Highly durable;

The wide range of styles available.
Disadvantages:
Expensive if compared to other types of flooring;

High added or unexpected cost;

Very heavy;

Better not to use on upper levels of homes especially when they are not designed to bear massive constructions;

Difficult to install;

Uncomfortable to stand for an extended period because of the cold surface
Vinyl
Fl
ooring
Vinyl flooring is considered a cheap solution for homes. It has a thin composition, soft in touch, but plastic in appearance. It's affordable and offers multiple solutions you should consider.
Advantages:
Affordable – this is the cheapest solution available today;

Simple to install;

It's water resistant and perfect to use in the venues having high humidity, kitchens, entryways, and bathrooms;

Resistant to blunt pressure and can be used in weight rooms;

Highly durable because it's reinforced with fibreglass;

The wide range of prints and styles.
Disadvantages:
Can be ripped or torn by sharp objects easily if compared to other types of flooring;

Non-eco-friendly on the contrary to hardwood flooring;

Very thin;

Difficult to remove because it's glued down to the floor.
Carpet
Fl
ooring
Some of the Homeowners commonly use carpet as the best flooring solutions in Vancouver. It gives a cosy feeling and is available in a wide variety of looks.
Advantages:
Suitable for sound reduction, right to use in cinema venues or apartments;

The most comfortable and softest type of flooring;

Very durable and can be used in high traffic areas;

Many styles available;

Safe for children and can be used in daycare centres, playrooms, nurseries;

Suitable for living rooms and bedrooms;

Simple to install.
Disadvantages:
Cannot be used in damp environments, like bathrooms or kitchens as it can mould or acquire mildew smell;

Difficult to maintain requires vacuuming on a regular basis;

It's not good for people having allergies as it may hold allergens;

It's not good for people having pets.
Image: Carpet Flooring
Cork is the Best
Van
couver
Flooring Solutions
Cork flooring is a natural flooring as well as hardwoods or tiles. Cork flooring is made of bark. Raw materials for cork flooring are derived from the bark of cork oak trees. It is eco-friendly and nice looking. Its distinctive appearance is looking well in bathrooms and kitchens.
Advantages:
Eco-friendly;

Easily renewable;

It gives a nice springy feeling when you touch the floor because of small pockets of air;

Good for back, orthopaedic;

More comfortable than other floor solutions;

Serves as a sound proofer;

Excellent for use in upper floors;

Difficult to deform;

Resistant to depressions.
Disadvantages:
Susceptible to standing water, can be discoloured by liquid;

Depends on the polyurethane coating;

Can be easily deformed or scratched by heavy furniture;

Light sensitive.
We provided enough information in this article so you can make your choice. You just need to look at the advantages and disadvantages of each flooring option and take into account the individual features of your homes.
Call us now for free quotes and estimates.